<h2>Music Transcription and Typesetting</h2>
Are you a songwriter and need your music scored? No problem. Just e-mail us the mp3 (or send it by mail) and we'll send you a professional quality, print-ready pdf file of your song that you can share with your friends and family.
Are you a singer and need a piece of music transposed to a lower key for an audition by the weekend? Have no fear! Just fax us the music and we'll typeset it in any key you want and get it back to you in a jippy.
What people are saying about KBM:  
"I never could have figured out all those jazzy chords on my own. Thanks, Keyboard Matters!"
"I couldn't believe how accurate the score was.  When I played the song at church, everybody said it sounded just like the CD"!
"I'd been looking for music to that song for months, but couldn't find it anywhere.  Keyboard Matters scored the music and got it back to me in no time at all!"

"
What KBM has to offer:
Transcribe from your handwritten score.
Transcribe from a CD, cassette, or MP3.
Arrange your music for any instrument .
Create MIDI files of your music. 
Transcribe from commercial recordings.
Deliver your music directly to your email address as a ready-to-print PDF file.
We use Finale Notation Software, considered by many as the best on the market, to transcribe your sheet music.

 We specialize in pop/vocal, gospel music, choral arrangements, lead sheets, out of print music or music from your favorite recording artist not yet published any where.

For immediate cost and time quotes, please send either an MP3, or  WMA to tjefferson@keyboardmatters.com. You may also send a CD (at your own expense).

<h3>Pricing</h3>
Volume projects can be negotiated upon,  reducing costs, in some cases by as much as 25% - 35%. You will not be charged for repeated measures (unless the accompaniment changes significantly).
Estimates are completely free and require no obligation on your part.  After receiving and reviewing your materials and requests, a price will be agreed upon via email.    If you then decide to order, 1/2 the total payment is required before any work begins. 

The cost of the transcription is based upon the complexity and duration of the music. Most transcriptions can be completed in under a week, although more complex music may require additional time.
Typesetting a standard piano/vocal score

$1.00 per measure

Typesetting a score with multiple staves

$2.50 per measure

Transcribing a basic score (4-5 staves per system)

$3.00 per measure

 

Transcribing a score with multiple staves per system

$4.00 per measure

Lead sheets


 

$1.00 per measure
Payment

I accept payment through PayPal or with a money order.
<h2>Lessons, Workshops, and Seminars</h2>
[img align="right " size="orig" alt="" height="159" style="margin: 4px; " width="233"]../../../../images/teaching2.jpg[/img]

Lessons

Are you ready to branch out and try something new and exciting?  Then why not consider taking private lessons to help you tap into your creative side and melt away the tension of your day-to-day life through the joy of music.  Whether you're a first time student, ready to take on something you're always wanted to be able to do...or an experienced player hoping to brush up your skills and tackle a differnet music genre...now's the time to make it happen! 
With more than 20 years of experience teaching students of all ages and levels, in a variety of styles including classical, gospel, jazz, and pop, I'll have you playing before you know it!

Coming Soon!
What? Teaching over the internet?
One of the newest innovations in music education today is teaching over the internet via webcam. I am happy to offer this exciting, new approach to private music instruction to you! All you need is a web cam, a computer, and a keyboard instrument. What do I get for your money?
The convienience of not having to leave your home.
First-rate instruction from a College-educated, experienced professional.
Reasonable rates that don't break the bank!
| | |
| --- | --- |
| Lesson Length | Cost Per Lesson |
| 30 minutes | from $35 |
| 45 minutes | from $50 |
| 60 minutes | from $64 |
Workshops and Seminars

Workshops are also offered on various topics including keyboard improvisation, gospel piano, and music transcription:

"How To Play Black Gospel Piano"
~ geared toward anyone with a desire to learn to play Black Gospel piano. Specific techniques and trends are explored and demonstrated, as well as hymn playing and other styles.
 "Keyboard Improvisation to Enhance Worship"
~ geared toward  the classically trained pianist or the church pianist who wants to develop the ability to embellish whats on the written page to enhance worship.

Note:
A book is in the works dealing with How To Play Black Gospel Music.  The details surrounding this project are being worked out with my publisher. I will keep you posted.

Impromptu CD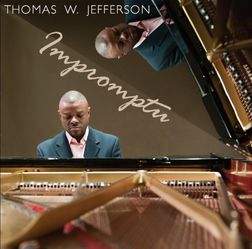 My debut CD of piano arrangements (impromptus) based on existing tunes from the rich heritage of classic hymnody and traditional spirituals.
"Impromptu is a tour de force of lyrical playing, imaginative inner voicing,interesting shifts of harmonic structures and tonal centers, and subtle changes of dynamics and meter."
Ron Rendick
Buy this CD at WLP
World Library Publications
I Hear Music in the Air - Gospel Style Piano Technique
Let master pianist Thomas W. Jefferson be your guide to learning how to play the piano with the style and flair that makes gospel music unique. This new and comprehensive technique book walks you through over 100 authentic and practical examples and exercises to fine-tune your skills. You'll also receive several full-length pieces for you to apply the techniques you have learned. Special bonus coming soon: free video tutorials using samples directly from this book presented by Thomas Jefferson. These will be available at wlpmusic.com and on YouTube.
Buy this book at WLP.
Lord, We Praise You
This moving anthem is a virtual call to worship, inviting every living thing to join in an unending song of praise to God. "From the rising of the sun, till the going down of the same" is an example of text painting set to lush harmonic strains that build to an emotional swell. Also poignant is the ethereal middle section, where Alleluias echo endlessly toward the heavens. A lilting waltz-like accompaniment provides contrast and support to the smooth vocal lines in this beautiful hymn. Appropriate for the Easter season or as a general anthem, this piece will move and inspire all to sing praises to the Lord!
But this sheet music at augsburgfortress.org
O Come, O Come, Emmanuel
Thomas W. Jefferson strikes the right chord with this lively setting of a familiar hymn text that dances joyfully to a different tune and that is ideal to kick off the Advent season. Covering a variety of musical textures, from unison to homophonic to polyphonic, this adaptation of VENI, EMMANUEL is soulful and uplifting. The syncopated rhythms and subtle jazz harmonies in the piano accompaniment set a nice groove that complements the vocals.
Buy this sheet music at augsburgfortress.org
Let It Shine: Spirituals For Piano, Vol. 1
A great new collection of spirituals for piano including: Lord, I Want to Be a Christian, Shall We Gather at the River, This Little Light of Mine, Near the Cross/Nearer My God, To Thee, What Wondrous Love/Jesus Loves Me, Steal Away, Rise Up Shepherd and Follow, and He is King of Kings/Ride On, King Jesus!
Buy this collection at WLP
Let It Shine: Spirituals for Piano - Volume 2 - Jefferson
A great new collection of piano spirituals including: "Every Time I Feel the Spirit," "Over My Head," "There Is a Balm in Gilead," "Blessed Assurance," "His Eye Is on the Sparrow," "I've Just Come from the Fountain," "Draw Near," "We Are Climbing Jacob's Ladder," and "Just a Closer Walk with Thee."
Buy this book at WLP
Buy this book at WLP